Post Hole Digger 1 Man
Powerful 9hp one person auger with a folding frame.
Suitable for a wide range of jobs from drilling simple holes in the ground to taking soil samples.
Auger sizes: 150mm, 200mm, 250mm, 300mm
100% Australian Made one man drilling machine.
Collapses for easy transportation, safe yet powerful One Man Post Hole Borer, that won't throw the operator about.
Easy to move around with durable rubber tyres.

Features:
Packs up for easy transportation.
Hydraulic forward and reverse operation.
Uniquely balanced for easy operation.
Handle shifts for close up digging.
Anti Kick back for safe operation.
Heavy duty augers with quality cutting tips.
 9hp model available.
A1 Augers unique design reduces jamming. These heavy duty augers have improved the industry standard and offer far greater drilling performance than bladed augers.
Ideal Use:
Fencing and post holes, tree planting.2.2 cubic feet, 3.5 cubic feet.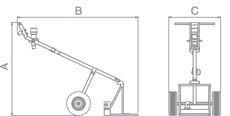 | Std One Man Machine Specifications | | 9hp |
| --- | --- | --- |
| A Height (overall) | | 1500mm |
| B Length (overall) | | 1950mm |
| C Width (overall) | | 840mm |
| Weight – No Motor | | 77kg |
| Motor Weight | | 28kg |